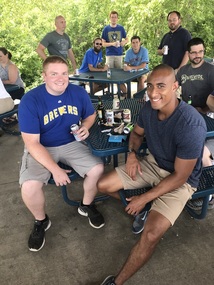 What do business and baseball have in common to be successful? A deep bench of talented people that will help build a winning franchise. And Vrakas is no exception having created a successful team through its scouting and drafting of talented players.
As a way to thank our amazing team for their hard work and to show them how much they are appreciated, Vrakas holds a summer outing each year. This year Vrakas chose a Brewers game and reserved one of the pavilions in the parking lot to tailgate before the game.
The weather was perfect and the company even better. In addition to current Vrakas employees who attended, future new hires also joined in the fun. We had interns from this past tax season who will be full-time starts in 2019, as well as individuals who will be starting this September!
Vrakas enjoyed a tailgate lunch and some exciting games of bags before the baseball game began. It was a great venue to kick-back, relax and enjoy some time away from the office together.
A winning combination – a Brewers win and the Vrakas roster.