Vrakas held a three-day extravaganza of celebratory lunches for being named a Top Workplace by Milwaukee Journal Sentinel.
We had boxed lunches catered in the first two days (tenderloin sandwiches from Skyline & burritos from Qdoba) and ended with a social distancing tailgate with Saz's grilling burgers, brats, and chicken on site. There were even prizes given away throughout the week!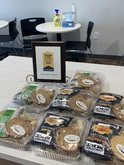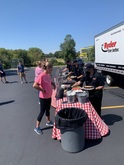 The fun didn't stop there though! On Saturday morning, a group of our employees volunteered to help pack backpacks for Blessing in a Backpack – Waukesha Chapter.
For 2020, our 13th annual volunteer day, Vrakas supported the Waukesha County Chapter of Blessings in a Backpack for the sixth year in a row. Blessings in a Backpack ensures impoverished elementary school children are fed on the weekends throughout the school year. Vrakas assisted Blessings by packing 4,800 bags of food for the 2020/2021 school year. In addition, Vrakas also supported Kenosha's Blessing in a Backpack chapter and the National organization through a donation collection.
We are a "Top Workplace" because of our fantastic employees! Not only did we spend time celebrating them this week, but they also took personal time out of their busy schedules to volunteer. We could not ask for a better group of individuals to make up the Vrakas family.