What's new at Vrakas …
1.  Vrakas Business Valuations, Inc. is now hiring! 
Vrakas Business Valuations, Inc. is looking for a full-time, self-motivated business valuation professional to join a fast growing business valuation practice.  Job responsibilities include financial analysis, guideline company analysis, industry & economic research, valuation modeling and report writing.
Two – Four years business valuation experience and credentials is strongly preferred.
For more information and to apply please click here.
2.  Vrakas Sponsorships 
For the third year in a row, Vrakas sponsored The Women's Center Futures Free From Violence: Trivia in the Park. The mission of The Women's Center is to provide safety, shelter, and support to adults and children affected by domestic violence, sexual assault, child abuse, and trafficking. The night consisted of raising awareness about the center with six rounds of trivia, a raffle and a variety of other ways one could donate and volunteer for The Women's Center.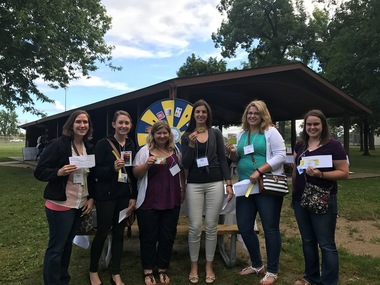 3. Summer Picnic 
For the first time in five years, Vrakas brought back the summer picnic! Vrakas employees and their families joined in for an afternoon of fun. We had it all – volleyball, bags, giant jenga, giant connect four, card games, shut-the-box, lawn dice, spike ball, croquet, bocce ball, drinks, food and great company.