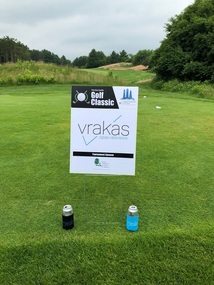 Vrakas is proud to support some fantastic organizations by sponsoring their annual golf outings. To name a few:
Lake Country Lutheran High School Annual Lightning Golf Open

Vrakas has been taking part in this golf outing for the past few years. Proceeds from this event benefit the LHSAGM Foundation, which supports Lake Country Lutheran High School through student tuition assistance awards.

Ken Smith Golf Classic

This outing benefits the Cancer Treatment Centers of America. Vrakas was proud to take part in this great event.

Annual Max-Fly Open in support of Midwest Athletes Against Childhood Cancer (MACC Fund)

Our very own Chief Operating Officer, Sandy McGee, and her husband, Max, have been organizing the Max-Fly Open for the past 21 years! Vrakas is a proud supporter of the event having sponsored it for the past 4 years. Fun Fact: This year's Max-Fly tournament winner was Vrakas's own audit associate, Nick Heckenkamp!

19th Annual MBBI Golf Outing

Vrakas was proud to sponsor the Midwest Business Brokers and Intermediaries annual golf outing where a portion of the proceeds benefitted Child's Voice. Golf and networking – it doesn't get much better than that!

Wisconsin Lutheran Child & Family Service (WLCFS) Annual Healing and Helping Golf Outing

We were happy to be a part of supporting this great organization. And what a better way to do it than by golfing.
As summer continues, Vrakas will continue to support great organizations on the golf course. Here's to enjoying summer and the great work others are doing!