The Joy of Giving
Written by: John Greenleaf Whittier
Somehow, not only for Christmas,
But all the long year through,
The joy that you give to others
Is the joy that comes back to you;
And the more you spend in blessing
The poor and lonely and sad,
The more of your heart's possessing
Returns to make you glad.
---
So how did Vrakas contribute to spreading joy to those in need this year? 
Vrakas participated in the Marine Corps Reserve Toys for Tots drive!
Over the course of the month, Vrakas employees gathered over 80 toys to help give holiday cheer to children in need. Additionally, the firm raised over $180 to purchase more toys.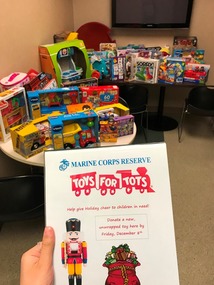 Wishing you and yours a wonderful holiday season and a Happy New Year,
– The Vrakas Family