As we celebrate our 50th Anniversary, we are first and foremost grateful that you've been a part of it.
As we look back at where it all started and recognize just how far we have come, we know it is because of you that we are able to celebrate this milestone. What began as a small firm with 4 members in 1971, has now grown to over 70 professionals with two locations in Brookfield and Kenosha.
Below you will find a collage of many pictures from clients, referral sources, family, and friends that have sent in virtual cheers with the famous Vrakas can koozie.
Send in a picture, share a story, write a testimonial … the sky is the limit! We'll be featuring our 50th anniversary all year long, so keep an eye out for your contribution.
From the bottom of our hearts, we thank you for trusting in us.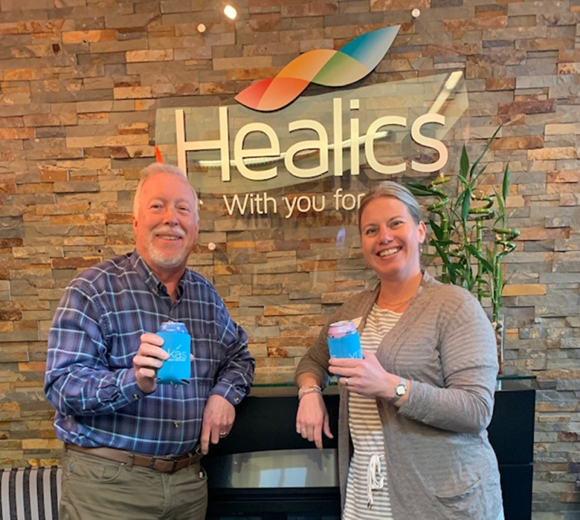 "Congratulations on your 50 year Anniversary! We are so very excited for you all at Vrakas and so very grateful to have you as a key business partner with Healics in 2021 and beyond." – Kate and Rand, Healics
"Congrats on 50 years! Here's Dan & I in the brewhouse rocking our new koozies with our "Never A Dill Moment" dill pickle sour beer AND one of the delicious beer-bloody Mary's we make with it. (Complete with a pickled veggie skewer and pint glass rimmed with our house-made chili pepper salt) Cheers to 50!" Matt and Dan, Public Craft Brewing Co.
"Maezie, our 5-month-old, assumes one of our Vrakas koozies is hers … but no one can resist a cute golden retriever! Happy 50th!" – Les Lippert, Lippert Flooring and Tile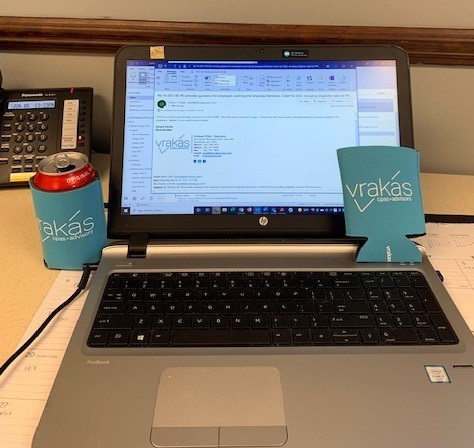 "Congratulations! This may not be the most creative picture, but if you look carefully, you'll notice I'm reading and responding to a Vrakas email!" – Beth Clark, PS Furniture
Send pictures, stories, testimonials to Marketing Manager, Kayla Kakonis – kkakonis@vrakascpas.com