Another year, another #YPWeek!
YPWeek (young professionals week) is a weeklong platform for discovery, adventure and meaningful conversations about the issues that matter among young professionals. YPWeek aims to engage the next generation of professionals, while also educating employers on workforce talent attraction and retention.
Vrakas has may young professionals, some of whom are participating in the YPWeek events:
Waukesha County YPWeek Kickoff Celebration

We started the week off volunteering with United Way of Greater Milwaukee & Waukesha County. The kickoff event consisted of packing new job kits (notepad, pen, mints, hand sanitizer) for the Women's Center. Within each notepad, we also wrote a sweet motivational message!
Helping out at HAWs

More volunteering! A group of volunteers gathered at HAWs and made cat scratchers and blankets for the kittens. Once a kitten is adopted, the new family goes home with their new forever friend and some toys to help making the transition easier.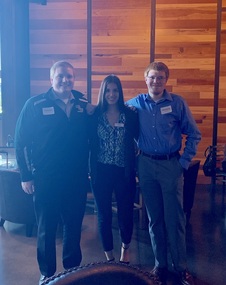 CEO Executive Chat

Young Professionals gathered at Raised Grain Brewing Company to hear Nick Reistad's (one of the founders) story on what it was like building two breweries AND branding in three short years. Hearing Nick's story brings motivation and hope to all of the young professionals out there … what can you do in three short years?
A great way to connect with collages, other young professionals and the community. Thanks Vrakas for letting us participate.