Last summer, a quirky oddity emerged when tiny 500-square-foot stores starting popping up for just a couple of weeks and then vanishing. Now, this trend is sweeping across the nation from industries as random as canine toy-testing stores to high-end designer shoe boutiques, and they are showing up everywhere from New York to Los Angeles. Retail loves the pop-up store because it creates yet another new use for old abandoned mall space. Here are a few of the coolest pop-up stores we've seen so far.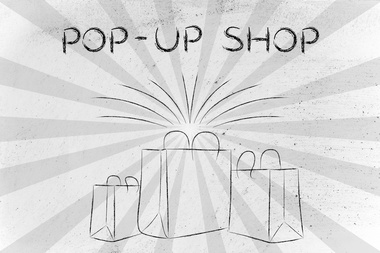 A Pop-Up Thrift Store in the Middle of Manhattan
Last year in New York City, the typical Halloween pop-up stores were overshadowed by an intriguing new kind of pop-up store. Selling vintage clothes at secondhand prices in one of the most expensive city centers in the world, Vintage Twin has become a must-catch pop-up store for Manhattanites.
Amazon's Nationwide Pop-Up Marketing Strategy
Amazon seems to be at the forefront of almost all new commercial real estate trends that are giving a boost to flagging retail sales at physical store. Once again, Amazon seeks to get ahead of the pop-up store trend by putting the company's own unique twist on it. Amazon's pop-up stores are as much walk-in ads for their new devices and accessories as they are shopping centers. Each store highlights their popular Echo speakers along with Kindle products, televisions, and more. Amazon is expected to open 100 pop-up stores this year.
Fashion Gurus Unveil Newest Creations
Fashion retailers are finding many things to love about this pop-up concept. First, it is giving new designers a place to showcase their designs to interested buyers. Second, it gives them a way to sell those same goods on the spot. Los Angeles has seen a huge uptick in these types of pop-up stores this year.
New designers aren't the only ones benefiting from pop-up store events. High-end stiletto designers like Amiri and Mellon have each hosted pop-up stores in Los Angeles, which are expected to remain open for just 60 days. These stores are combining both experiential shopping with the pop-up store trend, going so far as to offer free champagne for private shoe fittings in a luxurious 500- to 2,500-square-foot space.
Doggie Playground Slash Dog Toy Pop-Up Store
Dog owners are the targets for another creative idea for a pop-up store. Dogs are welcomed in to play with new toys from Bark & Co. A radio-frequency ID chip implanted in a doggie vest records the toys that dogs like the most and ranks them. Then, owners can use their phones to buy the toys their dog loved on the spot. It's marketing and retail genius.
Old Bloomers Bear New Pop-Up Früt
Just like abandoned malls are getting upscale makeovers through these pop-up events, certain brands are getting in on the fun. Fruit of the Loom opened up its high-end underwear line – Früt – as a playful way to sell underwear while entertaining the masses. Their window display shows skimpy undies draped over cardboard tree limbs and hanging on the wall. Even if shoppers don't buy the fancy panties, they at least go into the store, curious about and delighted by the creative new temporary space.
Overall, the retail sector is HIGHLY competitive. Worrying about new trends, such as the pop-up stores, growing competition with online sales, social media advertising, on-going personnel turnover … this makes it difficult to fully focus on the financial aspects of your business.This is where Vrakas steps in! As experienced business advisors, it is our goal to help you face challenges, manage profits and become more competitive. Vrakas will work with you to further grow your business by assisting with all of your professional accounting, tax and financial consulting needs.
Contact us today at 262.797.0400 or firm@vrakascpas.com to further discuss how Vrakas can help your unique situation. Until then, happy shopping!