The year has just begun and Vrakas is already committed to sponsoring a handful of events for organizations that are near and dear to our hearts.  A few include: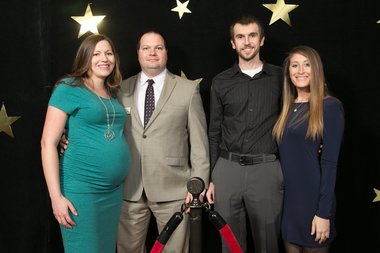 Vrakas CPAs James Broughton & Chris Marks at last year's Spring Gala along with their wives.
Elmbrook Humane Society (EHS) Spring Gala 
In recognition of the thousands of homeless dogs and cats in Waukesha County whose future is dependent on the support of the community, EHS hosts "There's No Place Like Home," their annual spring gala.
EHS provides care to approximately 1,500 animals per year, and is Waukesha County's only No Kill humane society. With the help of more than 200 volunteers, they are committed to saving as many animals as possible.
How did we get into sponsoring? 
Vrakas CPAs Tax Principal, James Broughton, sits on the Board of Directors as Vice President!
Pewaukee Robotics – FIRST team #1259 Paradigm Shift
Paradigm Shift is Pewaukee's high school robotics team, which Vrakas is a proud sponsor. They partner with professional instructors, engineers, and business mentors who intern students to solve complex problems through engineering, science, technology, and business principles.
The team has six weeks to design, build, and program a robot for the regional competitions. The top teams from each regional go on to compete at FIRST Championships held in April. The program is to inspire young people's interest and participation in science and technology. These innovative programs help motivate students to pursue education and career opportunities in science, technology, engineering, and math, while building self-confidence, knowledge, and life skills.
How did we get into sponsoring? 
Vrakas Business Valuations President, Scott Wildman, and his youngest son are actively involved with the team (Scott's son is the one in the back).
Officially, the #1 team in the World for Cargo Points through week 3 of competition.
ERAs Senior Network – Tapestry Dinner
The Tapestry Dinner is ERAs most significant fundraiser of the year, bringing together over 200 community members to share in a dinner and presentation and to raise funds that help support the programs of Eras Senior Network.
ERAs is a nonprofit organization whose mission is to engage and support Waukesha County seniors in leading meaningful lives. Seniors and adults with disabilities are supported by volunteers of all ages to help them maintain their independence.
How did we get into sponsoring?  
Vrakas President and Managing Shareholder, Jim Holmes, sits on the Board of Directors as President.