Vrakas is updating our office space for the first time since the 80's … it's about time right?! Long gone are the days when an office was a maze of cubicles beneath long, flickering, fluorescent lights. Today's tenants are demanding much more creative space to retain a technology-centric and mobile workforce that is constantly changing. In addition, working remotely has become increasingly popular. Half of the staff may not even have a physical desk at the office but rather are working remotely.
So, how will we continue to attract new and bright talent if we don't adapt? A large percentage of our new hires start out as interns. Students will intern with us during tax season and after watching them grow, learn and fit into our team, we will offer them a full-time position upon their graduation. Our interns are millennial's (and soon to be iGen). In order to stay competitive, we knew it was time for a renovation. Millennial's are attracted to innovation. They have been born and bred in a nearly totally automated and computerized world — a world in which technology just keeps advancing and breaking the bounds of what previously was thought to be impossible. It is that background that fuels the millennial desire for something innovative and unique.
For brokers helping tenants looking for office space, here are four amenities that they see: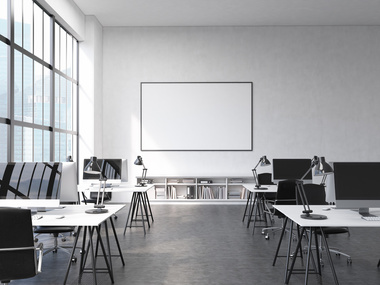 1. Technology-Enhanced Offices
It's not just the young employees who are used to doing everything online. Businesses increasingly rely on so much technology just to operate that buildings have to be designed to handle more technology. This includes space to house servers, charging ports, and Wi-Fi capability.  Office space tenants want a building that can support their workforce's technology demands.
2. Wide Open, Industrial Floor Plans
Commercial real estate designers are taking advantage of industrial floor plans to build creative space that can house multiple buildings in a variety of industries. Old industrial buildings often are built on top of existing sewage lines and electrical systems, saving builders lots of money on building costs. The advantage of reusing old space in a wide open floor plan gives tenants flexibility. If one business fails, other offices are ready to take their place. Plus, reusing those types of properties make them easier to resell down the road.
3. Amenities On-Site or Within Walking Distance
In home and office spaces, tenants want amenities to be close. Food courts or shopping centers that are close to the office are convenient for workers who like to combine work and home. Flex work hours allow employees to spend time at the gym on an average workday. If an office building is located in walking distance or on the same site as a group of shopping centers and restaurants, it makes it even more attractive to tenants.
4. Flexible Use
Like wide open floor plans, tenants want spaces that can be used for multiple things. Perhaps half of the building could be used for office space, while the other half is reserved for condos. Lower levels could be used for retail. The move toward flex use enables builders and brokers to market buildings to a modern workforce when choosing the right office space. Looking for office space that can attract other tenants as well is a win-win for those looking for office space.
One of the many industries Vrakas serves is real estate. To ensure you are maximizing the value of your assets, real estate-related entities require highly sophisticated assurance, tax and financial advisory services. At Vrakas, our professionals have extensive hands-on experience working with businesses and individuals in the real estate sector. To start a conversation regarding your real estate business and how we can help, give us a call today at 262.797.0400 and we will connect you with one of our professionals.